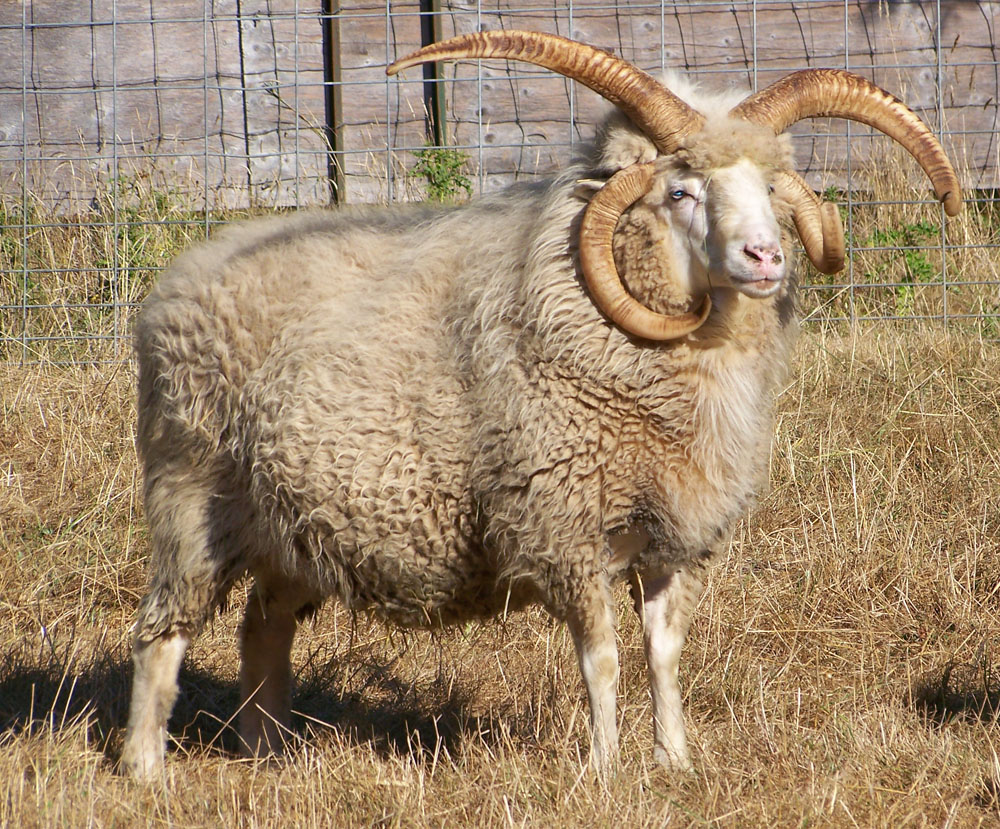 Fall is coming, nights are chillin' and the early breeding groups are done. Lambs for the freezer will be going to the shop on October 21st. I have a few extra so email if you are interested.
I have decided I need to offer more of my lovely sheep for sale. Since I breed for fleeces and our climate is too wet for annual growth to survive unfelted on a Churro, I shear twice a year. I usually shear late summer so they last in the barn. I have two white lovelies, an unusual NSP Blue (brown modified) and a Brown and Tan just added to my list. All my breeding stock for sale is registered. I also have 3 rams that need to find new homes. Mr. Blue 841 above is one, Green 141 is already on the sale page and my big 4H ram shown below.
 We might have to recycle Blue841 on Oct 21st so if he strikes your fancy let me know soon.
This is the time to prepare our farm products for the Olympia Weaver's Guild Sale or for sale to farm visitors. I will be preparing fleeces from our meat crosses for sale. Most of the meat lambs are out of Churro moms and Iggy, our BlueFaced LeicesterX Gotland. The fleeces are shiny, mostly silvery or white, and grey. I do have several BFLXGot lambs who I will shear and could be tempted to sell their fleeces as well. The wool is shiny, silky, and wavy like kid mohair. So you spinners and felters would really enjoy it.
Fiber will be eventually be added to our website but for now, enjoy this piece of felt in blue and other mixed colors. The batt the felt is made from can be purchased for $30. Its a 15 ounce batt approx 36 X 45.
9,795 views